Photos from Rita's Performance in TheatreSquared's Production of Next To Normal
Rita Harvey and Neil Berg with James Earl Jones
And then this happened... OMG! And he was so sweet! I feel so honored to have gotten to meet him!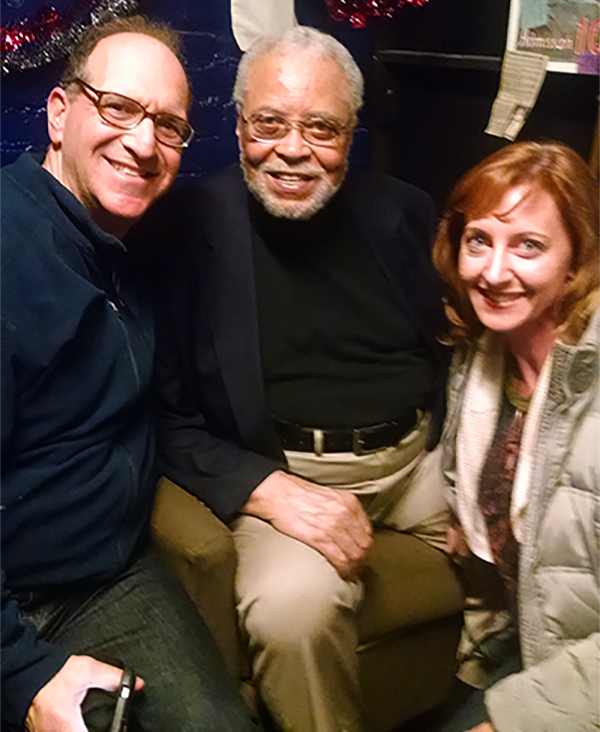 Rita Harvey Appearing At The Final Performance At The Irish Repertory Theatre (Until 2016!)
Before renovations begin at our beloved Chelsea home, join us for a farewell benefit performance on 22nd Street!
Meet Me At The Square!
directed by Charlotte Moore
musical direction by
John Bell & Mark Hartman
September 4th at 7:30 pm
Benefit performance tickets $250
MEET ME AT THE SQUARE! marks the culmination of 25 glorious years of producing great musicals and plays at the Irish Repertory Theatre on 22nd Street. On this special night, ONE DAY before the wrecking ball arrives, we will raise a parting glass and sing the songs that have rocked these walls!
We will remember wonderful shows such as FINIAN'S RAINBOW, MEET ME IN ST. LOUIS, AFTER THE BALL, TRANSPORT, STREETS OF NEW YORK, NEW GIRL IN TOWN, TAKE ME ALONG, and THE IRISH... AND HOW THEY GOT THAT WAY... Iconic shows performed by many of the stars who made them unforgettable.
Just announced, the evening's performers will include: Kerry Conte (The Irish...), Patrick Cummings (Transport), Max Von Essen (Finian's Rainbow), Danielle Ferland (New Girl In Town), Beth Fowler (Ernest In Love), Bonnie Fraser (Meet Me In St. Louis), Jessica Grové (Transport), Rita Harvey (Peg O' My Heart), Elizabeth Inghram (After The Ball), Donna Kane (Streets of New York), Chad Kimball (Finian's Rainbow), Kerry O'Malley (Finian's Rainbow), Jenny Powers (Donnybrook!), Ciarán Sheehan (The Irish...), and David Staller (Streets of New York).
Beginning in September, The Irish Rep will be in residence at the DR2 Theatre in UNION SQUARE while our home receives the careful facelift it deserves. When we return, we will sing these songs again... and add new ones yet to be written.
Join us! Support us! MEET US AT THE SQUARE!
For more information about the evening please call 212.255.0270.
$175 of the ticket price is tax-deductible.
Rita Harvey Makes Her 54 Below Debut With "I Know These Things&quot May 28
Rita Harvey will make her 54 Below (254 W 54th St, Cellar - New York, NY 10019) debut with her show, "I Know These Things," on Wednesday, May 28. Door time is 8:45 pm and show time is 9:30 pm.
For tickets and more information, visit: www.54below.com/artist/rita-harvey/
From playing the lead role of Christine in both the Broadway and national touring companies of The Phantom of the Opera to playing the role of Hodel in the Broadway production of Fiddler on the Roof opposite Harvey Fierstein and Rosie O'Donnell, Rita Harvey's career has spanned many vocal styles. Rita recently appeared as Diana in TheatreSquared's production of Next to Normal, where reviews called her "mesmerizing." Rita is the principal soprano in Neil Berg's 100 Years of Broadway, which was voted the number one touring Broadway concert in the country, playing in large performing arts centers all across the country. Rita has also played Feinstein's, The Rainbow Room, Joe's Pub and the Hard Rock Cafè, among others.
Rita is trained in opera but has made a career on the Broadway and concert stage. Her 54 Below debut show will reflect the many styles of music that have influenced her through the years, including pop, jazz standards and musical theater standards, as well as new original songs, folky singer-songwriter fare and even an opera surprise.
Rita Reading New Musical, "Makeover," March 31-April 1
Rita will be doing a reading of a new musical, "Makeover," March 31-April 1. "Makeover" is written by Kim Sherman and Darrah Cloud. Nick Demos is directing and Larry Yurman is musical director.
The musical tracks the life of Ruth, a war widow who is forced to start working for a living and moves up the ranks to create a worldwide cosmetics company, as well the beginnings of popular music and the woman's movement from the '40s to the '70s.
Rita will be playing the role of role of Marilyn, along with Ashley Brown, Kevin Spirtas, Ken Barnett, Jacob Hoffman, Isabel Santiago, Kenita Miller, and Crystal Lucas Perry.
UPCOMING PERFORMANCES
Thursday
Apr 23, 2015

Broadway Today Symphony Concert

with Craig Schulman and Gary Mauer
Frostberg, MD
RECENT PERFORMANCES
Dec. 12 -
Dec. 14

Tim and Scrooge

The Inserra Theatre
St. Joseph Regional High School
Playing the role of Martha
Tuesday
Oct 07, 2014

Cast Reading of Holding On: A New Musical
Thursday
Sep 04, 2014

The Irish Repertory Theatre

Meet Me At The Square!

directed by Charlotte Moore

musical direction by

John Bell & Mark Hartman

132 West 22nd Street

New York, NY 10011

7:30 pm

Benefit Performance Tickets $250

For more information about the evening please call 212.255.0270.

CLICK HERE TO BUY TICKETS
Wednesday
Aug 27, 2014

"I Know These Things"

Tim McLoone's Supper Club

1200 Ocean Ave.

Asbury Park, NJ

Dinner/Doors: 6pm, Show: 8pm)

Ticket Prices: $15-$30 ($30 VIP tickets include Upfront Seats, Pre-Show Meet and Greet and signed show poster.) For tickets and info: 732-774-1155 or timmcloonessupperclub.com.

CLICK HERE TO BUY TICKETS
Friday
Jul 04, 2014

Rockland Boulders Baseball Game

For the Fourth of July, Rita will be singing the National Anthem

1 Provident Bank Park Dr.

Pomona, NY 10970

www.rocklandboulders.com